» Latest Posts
Countdown from one million...
Last post by
vremya
178,192 Replies, 20,900,482 Views
Happy Birthday, vremya!
Last post by
vremya
8 Replies, 96 Views
Yo, top 1%: shut the fuck up
Last post by
JoeP
1,390 Replies, 252,465 Views
WTF happened to Google?
Last post by
JoeP
538 Replies, 224,596 Views
Christmas Up Your Avatar
Last post by
Pan Narrans
485 Replies, 88,353 Views
Philolsophy
Last post by
BrotherMan
232 Replies, 169,251 Views
Welcome to the Freethought Forum
The lofty high Renaissance and marked mannerism. The heavy and ornate Baroque era, followed by the gentle Rococo. Harsh neo-classicism, rich romanticism, lush naturalism, stern realism, blurred impressionism. Heady surrealism, blockish cubism, postwar Dada, pointy-cornered art deco and cookie cutter Bauhaus. Let us skip the dreariness of the past half century and arrive finally at
FF Style
.
» FF News Feed
The War on Christmas Will Continue!
Nov 25, 2021 - 6:24 PM - by Basset Hound



We are calling upon the Klaus regime to return to the borders agreed upon in the Black Friday Agreement.

Back the Attack.
1 Reply | 333 Views
Glenn Greenwald and other anti-anti-Trump "lefties" are right-wingers
Nov 22, 2021 - 10:50 PM - by erimir
This is just gonna be the place for cataloguing the evidence that Glenn Greenwald and other anti-anti-Trump "lefties" are basically just right-wingers who constantly engage in bad faith and hypocrisy.

Feel free to add shit about Matt Taibbi and other people who are nominally on the left but seem to spend most of their time attacking Democrats and defending Republicans, often defending the GOP with right-wing arguments, or even more ludicrously, asserting that the GOP is actually the one on the left on certain issues (a la Greenwald spending years assuring us that Rand Paul was more committed to civil rights than the Democrats, only for Rand Paul to roll over and endorse nearly every Trump move that violated his supposed libertarian principles). But really, in the past couple years a lot of them have moved towards having generically right-wing opinions and making generically right-wing arguments.

Here are some to start:

Greenwald: Stacey Abrams refusing to concede that Kemp won a fair election given voter suppression in Georgia, but not legally contesting the election... this is the same as Trump trying to coerce state elections officials to "find" extra votes, suing to have legitimate votes thrown out, calling the election rigged based on no evidence, etc.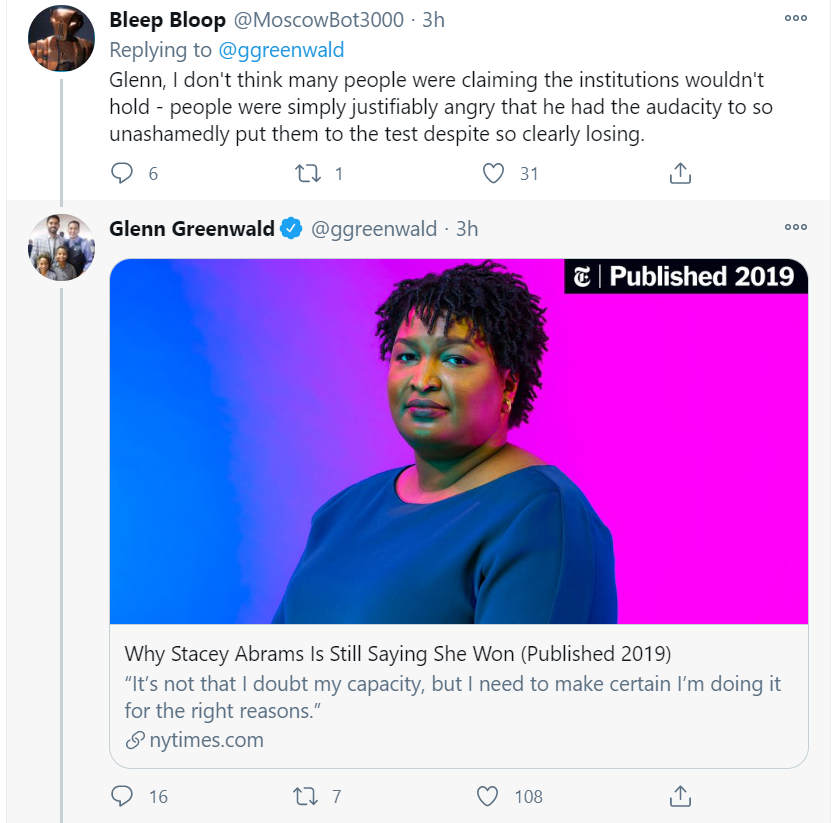 The Russia story is "vastly" worse than the disinformation than Trump and the GOP engage in. Because the Steele dossier might not all be true, but Greenwald never acknowledges that the Senate's investigation concluded there was basically coordination between the Trump campaign and Russia, he never acknowledges that Russia hacked the DNC, etc. so he pretends that there's nothing to the Russia 2016 story.

But even if you want to conclude that what is there isn't that big of a deal, and so the media and Dems are still bad on this... he's... [Read More]
6 Replies | 520 Views
» Stats
Members: 155,004
Threads: 29,380
Posts: 1,362,261
Top Poster: Crumb (60,766)

Welcome to our newest member, ruthiedm16